The article originally published by Shlomit Tsur on June 4, 2018, 4:20 PM
https://www.globes.co.il/news/article.aspx?did=1001239671
Please make sure to check the note at the end of this article!
---
The vacation homes project of Igal Ahouvi and three Israeli partners was suspended after Ahouvi stopped financing it ● Thousands of buyers have been left without the vacation homes that they bought, and recriminations between the businessman and his partners are threatening to end up in court ● Ahouvi: "Baseless claims by frustrated people"
It began in 2012 as an expansive real estate promise to create a luxury hotel project at a popular coastal town in Vietnam and ended with an abandoned construction site and thousands of furious vacation home buyers. At the heart of the controversy is businessman Igal Ahouvi, who, according to his partners, stopped financing the project despite his obligations, and brought about this dismal situation.
The story began when David Leibel, Ron Armon and Simon Tetroashvili – three Israeli entrepreneurs active in the real-estate and media market in Vietnam – decided to take advantage of growing demand for timeshare projects in Vietnam and develop a luxury project at a winning location that would generate handsome profits. Timeshare projects offer vacation homes for sale for a one-week stay each year.
The partners located 310 dunams (77 acres) of land including a 575 meter of coastal strip at the coastal town of Nha Trang, which hosts 3.5 million domestic tourists every year, in addition to 700,000 foreign tourists. In order to advance the project, the three used their company DRS to search for a fourth partner, a wealthy tycoon to fund the project while they would be responsible for planning, building, marketing and managing the project.
The names of potential funders included top Israeli businessmen and local investors, but in the end the partners entered an agreement in 2012 with Igal Ahouvi, the controlling shareholder in the publicly traded company Ravad and an Honorary Consul of Vietnam in Israel. They claim that they did so after Ahouvi convinced them of his sufficient financial capability and connections in the Asian developing country.
DRS and Blenheim Investments, owned by Ahouvi and through which he does business abroad, entered into an agreement to create a shared company called Elgin Investments, such that, as stipulated by Ahouvi, he is the majority shareholder in the shared company (88%) and controls the financial management, while DRS is the minority shareholder (12%) of the shared company.
The sides agreed that Ahouvi would finance the shared project, and the partners would be responsible for planning and marketing the project. However, according to the partners, after they had contributed significant work and after construction began at the end of 2015, Ahouvi took over management of the shared company and contact with government officials and municipalities.
According to the partners, as part of Ahouvi's domineering behavior, he refused to sign a binding agreement with them, even though the sides came
together as early as 2012 for the venture. Correspondence obtained by Globes between Ahouvi and one of the partners demonstrates Ahouvi's aversion to signing the agreement: "I don't have an agreement with anyone", Ahouvi wrote. "If you insist on a contract, there will be a contract, but then we write everything in the contract. Not just a one-sided document that contains my obligations, also yours. It's not a matter of trust. When there's trust, a contract isn't necessary."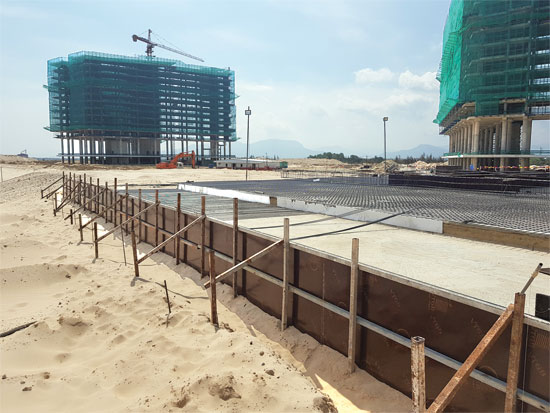 Irrational behavior instead of funding
According to the partners, they located the land, whose 3 million dollar acquisition was financed by Ahouvi, as per his commitments, and it was they who worked to advance a construction plan, to enhance the land's value, and to receive the permits necessary for building 600 hotel-style vacation units in the complex including ground-level homes and three 10-story buildings.
Each unit was offered for sale at an average price of $18,000 for a week's share, multiplied by 52 weeks per year – in total, the project offered some 31,000 weeks for sale. In 2013, the partners began marketing the project and since then have sold thousands of vacation-home weeks to local families, with Ahouvi being presented as the financier behind the project.
In the end, only after 4 years – in 2016 – and after the partners exerted pressure did Ahouvi agree to sign a binding agreement, which, according to the partners, was not adhered to from the very beginning. Ahouvi, who committed to financing the project, whose construction is valued at 160 million dollars, financed the purchase of the land at the beginning for 3 million dollars, but immediately afterwards – according to the partners – behaved in a way they call "irrational," and did not contribute to advancing the project. Thus far, Ahouvi's total expenses have been 5.8 million dollars, which is far from enough to advance the project.
"We launched the Alma project and we started marketing the homes at the end of 2013, having finished with the permits by then. The first units were supposed to be handed over within 3 years, at the end of 2016", say the partners. According to them, the pace of sales was surprisingly good, but then Ahouvi, so they claim, who according to the agreement was only supposed to finance the project, suddenly decided unilaterally to cancel the project's permit and even to change the plans that were already approved. According to the partners, this strange behavior caused significant delays in the project, which now included new plans and getting a new permit.
"We quickly understood that we wouldn't be able to hand over the units on time", they say. "When the date of the first handover in 2016 neared, there were sales of thousands of vacation units, but construction was in its early stages – excavation and foundations. When people who had bought units saw that there was no construction on the site, it became a big mess and there were demonstrations against the company at the site. Now the buyers are even demanding that the deals be cancelled", they say. They claim that there still is no agreement with a contractor, and work on the site has stopped entirely.
According to the partners, Ahouvi's irrational behavior was meant to hide his difficulties in getting the funding he promised to obtain to build the project. The partners claim that Ahouvi delayed the permits on purpose because he wasn't able to supply the money for continuing to finance the project as he had committed to, and so did everything he could to delay the project in an attempt to get the necessary funding from sales of the vacation units.
Thus, while they claim that they worked hard on planning the project and marketing the units and while Ahouvi was presented to potential buyers as a tycoon with substantial capital for carrying out the project, Ahouvi admits in correspondence with one of the partners in November 2015 that he failed to receive bank financing and that he is asking for their help: "I requested local bank contacts four times", Ahouvi writes. "We need a loan for construction and loans for buyers from the same bank. So far I've only worked seriously with HSBC, which ended up rejecting the project. You said that you have a close friend who is the chairman of a bank. If that's true, just make the connection for me. One short meeting by you, and I'll take over from there".
According to them, "we could have gone to another 20 investors who would have invested in this amazing project with us. We took care of sales, and he was supposed to take care of the money. Instead, he told stories, stopped supplying the project with funding, postponed construction and caused violations of contracts with different buyers who were left furious and helpless".
Violence against sales staff
During the past two years the project has been criticized and attacked in all Vietnam media, including social media, television and newspapers. The buyers are furious about the cancellation of agreements, and are working on filing lawsuits against the company, holding demonstrations against the company, and in some cases even using violence against local sales staff, demanding that their money be returned.
As of today, according to the partners, construction of the project has stopped in the absence of funding from Ahouvi, who they claim has taken complete control of the project and is doing everything possible in order not to provide the financing he promised. Ahouvi and his partners are entirely out of contact, and a dark cloud hangs over the project's future.
There is no clear answer today to the question of why Ahouvi didn't continue to finance the project he entered into. But he made his distress clear in correspondence with one of the partners: "Despite all your concern and the fact that you are giving everything to this business, the big problem is mine. I also don't sleep at night because of this project", Ahouvi wrote to one of his partners.
Adv. Tal Benenson, who represents Ahouvi's partners, stated that "this is the tip of the iceberg when it comes to our clients' claims of wrongful acts and harmful behavior by Mr. Ahouvi, who has crudely violated and continues to violate his obligations to our clients. We are currently working on preparing the lawsuit that will detail our clients' claims and show a complete and comprehensive picture of Mr. Ahouvi's personal conduct".
Igal Ahouvi's attorney, Adv. David Leshem of Nir Cohen, Leshem and Co. stated on his behalf that "the claims in the article are factually and legally baseless. These are false claims by people who are apparently frustrated about not succeeding in selling their small (and indirect) portion of the project at an exorbitant price, a price that, incidentally, according to them, reflects the project's phenomenal success".
Real estate in Europe, Canada and Israel
Ahouvi, who started out as an accountant and later became a real-estate entrepreneur, does not give many interviews and maintains his privacy. He is known for being an avid art lover and it was recently reported that he is selling works of art at prices below their value.
Ahouvi owns assets in Europe, Israel and Canada. He operates through the private company Blenheim, which purchases, maintains and manages income properties, and whose activity is concentrated mainly in Western Europe. Ahouvi is also one of the owners of Chamoss, along with Yitzhak Swary and George Horesh. Chamoss owns properties in England that serve as showrooms for Volkswagen cars.
In Israel, Ahouvi operates through the publicly traded company Ravad, of which he holds 65% of the capital and serves as chairman. Ravad is a relatively small real-estate company traded on the stock market and valued at around 160 million shekels, and it currently owns around 10 income properties in Israel and abroad, some of which are slated for sale. Ravad is a partner in the Antokolski residential project in central Tel Aviv.
In addition, Ravad is relatively active in the field of managing and operating nursing homes in England, in partnership with the retirement home company Beit-Hazahav. Last year Ravad completed the purchase of 13 retirement homes for 355 million shekels (almost 80 million GBP), as part of a shared strategy of creating a chain of high-quality retirement homes.
At the end of 2017, Ravad enjoyed earnings from a new asset that it purchased in Germany, which led to 50% growth in its annual revenues, which reached 37 million shekels. However, a significant rise in its financing costs led to a drop of nearly 50% in profits, which stood at 12 million shekels.
In the first quarter of 2018, Ravad's revenues dropped 40% to 6 million shekels, due to the sale of that same asset in Germany. However, a change in the valuation of assets, finance and profits from affiliated companies helped it post a quarterly profit of over 5 million shekels, after posting a loss in the same quarter last year.
---
On the 30th of April, 2020, we received a very threatening letter from Lawyer Lawrence Quahe from Quahe Woo & Palmer LLC demanding that we cease to publish what we find out about Mr Igal Ahouvi. In a 14 page detailed letter they only attacked us but acknowledge that there is a court case in Singapore relating to the partners in the infamous ALMA Project. DRS and Blenheim or the people behind it David Leibel, Ron Armon and Simon Tetroashvili and Igal Ahouvi, regarding the allegations in the article below that was published in the State of Israel by Globes Magazine.
We cannot confirm or deny the fact that there is a court case because no search engine found any mentioned of it, at this point we think it is a spin away for Mr Igal Ahouvi focused attention.
On a different note: from the same day that Lawyer Lawrence Quahe send us the letter our site and our emails were attacked by DDoS and countless ties to infect us with malware. It suddenly stopped on
On the 16th of May after we sent a email to Lawyer Lawrence Quahe and to Mr Oron Costtaricci the international CFO of Mr Igal Ahouvi saying that we will go to the US authorities for this criminal act.. Is it a coincidence?? You be the judge of that!!
Today the 20th of May, 2020 – 9:05 AM we received the following denial from Mr Lawyer Lawrence Quahe from Quahe Woo & Palmer LLC, we present it as it was sent to us;
"Your allegations in the email below as against our Mr Lawrence Quahe and the law firm of Quahe Woo & Palmer LLC("QWP") are denied. Our Mr Lawrence Quahe and QWP expressly reserve any and all rights .
Insofar as your allegations are made as against our client, Mr Igal Ahouvi, we are instructed to deny the allegations and will reserve any and all our client's rights."
Mr Lawrence Quahe defends his client Mr Igal Ahouvi, and they indirectly, by not denying it, implicate Mr Oron Costtaricci the international CFO of Mr Ahouvi that probably the money trail will lead to him.
We will continue to investigate who was behind this brutal attack!!!