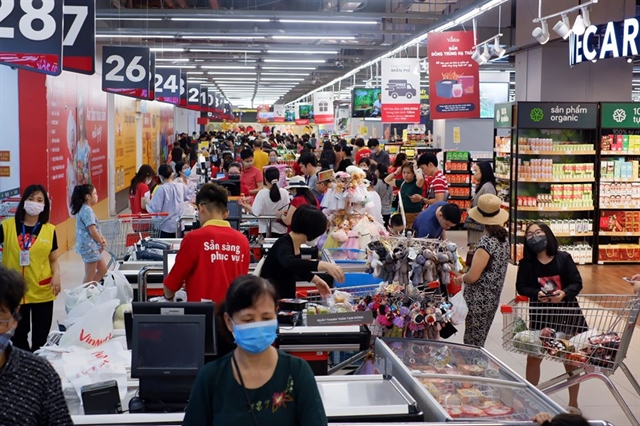 Revenues of Masan Group Corporation have more than doubled in the first quarter of 2020, with its retail platform well on the way to breaking even. — Photo courtesy of Masan
HCM CITY — Masan Group Corporation (HOSE: MSN) has reported consolidated net revenues of VNĐ17.632 trillion (US$ 753.08 million) in the first quarter of financial year 2020, a year-on-year increase of 116.1 per cent.
This was primarily due high double-digit growth at Masan Consumer Holdings (MCH) and consolidation of VinCommerce the company acquired recently.
Masan reported its first quarter results on April 29.
Of its subsidiaries, MCH achieved net revenue growth rate of 22.4 per cent and earnings before interest, taxes, depreciation, and amortisation (EBITDA) growth of 5.3 per cent.
This was driven by 59.7 per cent growth in convenience foods and 300 per cent growth in processed meats and 75 per cent growth in sales through modern distribution channels.
Profitability grew less than the topline since the company invested significantly on innovation and strategic marketing campaigns to maintain similar growth rates for the remainder of the year.
VinCommerce (VCM) delivered revenue growth of 40.3 per cent over the same period last year to VNĐ 8.709 trillion ($ 372.6 million).
Its growth was driven by strong double-digit same store sales growth in Hà Nội, tier 1 and tier 2 cities and a ramp-up of 27 VinMart supermarkets and 1,192 VinMart+ minimarkets opened in 2019.
Masan MEATLife's meat business continued to surge, with net revenues rising by nearly 85 per cent quarter-on-quarter to VNĐ453 billion ($ 19.4 million) in Q1.
But MML's consolidated net revenues grew by only 6.4 per cent as pig feed is still impacted by the smaller pig population as farmers in many places have stopped breeding the animals due to the threat of African swine fever.
The integrated meat business (feed, farm, and meat) achieved breakeven EBITDA in Q1. MML will focus on developing a productive and sustainable supply chain to deliver sustainable profits as volume scales up over the next 18 months.
Masan Resources experienced a 10.4 per cent decline in net revenues as mineral prices remained low due to the COVID-19 pandemic.
But it expects earnings and cash generation to rise from Q2 onwards due to realisation of current copper inventory and synergies from impending closure of the acquisition of H.C. Starck's global tungsten business.
MSN's cash earnings, or cash net profit after tax post-minority interest (NPAT Post-MI), are expected to accelerate in the second half of 2020 with VCM's profitability forecast to further improve and MCH realising returns on strategic investments made in the first quarter.
Nguyễn Đăng Quang, Masan's chairman, said: "To be frank, I did not expect the transformation of VinCommerce to happen this soon. We have cut EBITDA losses by half and still delivered strong topline growth. Many will say that this is a short-term boost from COVID-19, but to me this is the start of a structural shift to modern trade.
"I believe COVID-19 has accelerated the modernisation of Việt Nam's grocery sector and the rate of change will be unimaginable. Our transformation will also accelerate as we operate nation-wide and are also committed to work with the general trade retailers to help them modernise."
Full-year outlook
Masan expects double-digit growth in consolidated net revenue for 2020, with profitability to catch up in the second half of the year. As a majority of MSN's businesses are focused on basic needs and consumer staples, the company does not expect to be materially impacted by COVID-19.
Among its subsidiaries, MCH is forecast to deliver over 15 per cent revenue growth and double-digit profit growth in 2020. To ensure the growth, it will continue to focus on premiumisation and margin improvement in granules to the levels of its overall seasonings portfolio.
As for convenience foods and processed meat, MCH will focus on premiumisation of its existing portfolio coupled with making the transition to a full-meal solution provider.
The management expects consumers to increasingly switch to ready-to-eat packaged products from dining out post-COVID-19.
In the beverages segment, it will round out its energy drinks portfolio and gain market share with breakthrough innovations and products.
In the home and personal care (HPC) segment, it has successfully integrated NET Detergent Joint Stock Company (NETCO) and leveraged MCH's points of sale to increase availability of NETCO's brands and products nation-wide as a first step. The second step will be to enter other attractive sub-categories in the HPC segment, which will most likely occur in the second half of the year.
In MML's meat business and VINECO, VCM's fresh vegetables and fruit production arm, it is focused on building the leading safe and fresh produce platform in Việt Nam. — VNS